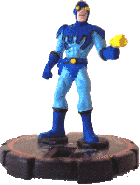 It's Hamma Time!
<!DIV id="layer12">




<!/DIV>

<!div id="layer2">

Now that Critical Mass is on the shelves, you may be thinking about picking up the new Unique Beta Ray Bill to replace Experienced Thor as your resident hammer-weilding powerhouse. At the same point total, let's see which is better suited for your needs.
THOR (E)
vs
BETA RAY BILL (U)
Points
144
144
Set (Rarity)
Clobberin' Time (4)
Critical Mass (6)
Team Ability
Avengers
None
Click-by-Click
Analysis
Right off the bat Thor seems to have the edge with a free move via the Avengers team ability. Their numbers are extremely similar, but Thor keeps ahead on the first three clicks: on the first click his 17 defense beats Beta's 16. On the second, Thor keeps his 11 Attack while Beta goes down to 10. And on the third click Thor again beats him in defense 16-15. The fourth click they're exactly the same, and Beta pulls ahead on the 5th click, beating Thor's defense by 1 point, and then they even out again on the 6th. Here's the 7th click clincher: Beta keeps his toughness with a 14 defense while Thor's toughness goes bye-bye as he falls to a 13! Both of their last clicks is a stand-still 5-8-13-1.

I dunno about you guys, but I'm stickin' with the original Thunder God. The Avengers ability far outweighs Beta's extra click of toughness, which Thor might not even need with his mighty 1-point edge in defense on the first click.

Who Wouldja Rather?
Blonde hunk of beefcake with exotic accent
Horse-faced alien that smells like a stable
WizKids, LLC has sole ownership of the names, logo, artwork, marks, photographs, sounds, audio, video and/or any proprietary material used in connection with the game . WizKids, LLC has granted permission to twinz, inc. to use such names, logos, and/or marks for promotional and informational purposes on its website but does not endorse, and is not affiliated with twinz, inc. in any official capacity whatsoever.