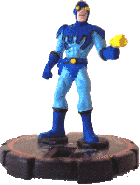 www.westcoastempire.com
<!DIV id="layer12">




<!/DIV>
WizKids got a kickin' site that's updated regularly and filled with useful info! Excelsior!
Second verse same as the first. You've got mail!
Because sometimes the two big guns just aren't enough. Bring on the scantily-clad wimmenz!
The Premier HeroClix Community. News, strategy, customs, and no sign of the infamous twinz due to HCR's spin-off relationship with WizKids accompanied by the fan-hated draddog (good ol' Kevin).
BWAH-HA-HA-HA! This is just about THE most entertaining HC site on the 'Net (2nd only to ours, of course!). Creative mods and hilarious comics done in Twisted Mego Theatre style (ala ToyFare) will have you laughing all the way into 2005.
WCE is our favorite store in all of Cali! Comics, AirSoft, and of course HEROCLIX!!
Looks like the HCTP is out of business! Shame, it was a great way to bring traders together.

---

We visit this site numerous times a day for the latest info on comic book movies like Daredevil, X², Ghost Rider, Catwoman, etc.
Flash animation shorts featuring the totally awesome Strong Bad! Watch as he answers one of your emails each week, it's the funniest thing you'll find on the Internet. You'll be hooked!
Go "Oooh" and "Aaah" at Brak's spectacular works of art (YES! This IS the Brak of OverPower fame -- tell him the infamous twinz sent you!). Recently recognized for his amazing Champions of the Galaxy artwork, more and more people are discovering Brak's talents. Order a copy or two or three of Toerag Tales #1!!
Owned by Cab|e, CM of Undernet's #Marvel. Check it out for great facts on some of your favorite Marvel Comics characters!

---

Playing Nice Will Get You Nowhere! #1 ReCharge site on the Internet.
OverPower: twinz, inc. style. The site that started it all.
Do you smell what the twinz are cookin?!

WizKids, LLC has sole ownership of the names, logo, artwork, marks, photographs, sounds, audio, video and/or any proprietary material used in connection with the game . WizKids, LLC has granted permission to twinz, inc. to use such names, logos, and/or marks for promotional and informational purposes on its website but does not endorse, and is not affiliated with twinz, inc. in any official capacity whatsoever.